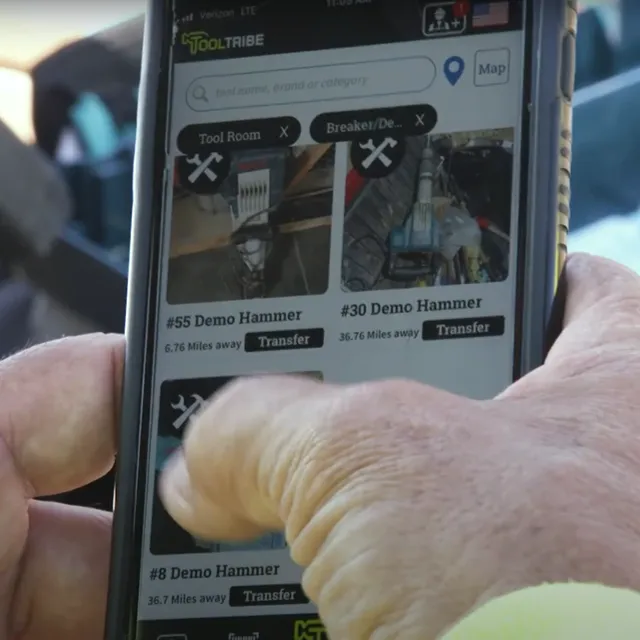 How to Get Your Employees to Embrace Tool Inventory Software
Implementing construction equipment management software to track tools and other assets pays for itself quickly. Most small tools tracking software costs much less than the labor looking for tools or the replacement costs for lost tools. However, if your employees don't use the system, it will break down quickly.
Busy field personnel are unlikely to adopt a new process if it is time-consuming or requires using complicated software on the job site. Your employee's first experience with the new tool tracking system will have a big impact on their adoption as well. The steps outlined below address these challenges, among others, to ensure your asset management software is effective.
Choose user-friendly software.

There are a wide variety of asset management solutions available. Most were developed for office or warehouse environments that are much different than on the job site. These may work for your employees in the shop, office, or yard. However, it's unlikely that a project manager will have the time or patience to navigate many steps or enter a lot of text amongst the chaos on a job site.

Look for solutions that do involve the field but don't require much time or effort on their part. It's most critical for field employees to accept/confirm accountability and to have ongoing visibility of the inventory moving forward. Introducing an app with many additional features and options can create confusion and make it less likely that your employees will actually use it.

Involve key team members in the selection process.

An easy way to gain buy-in from your employees is to have them choose the software. Ideally, they can participate in software demos and try it out before you buy. Not only will this give them ownership in the solution, but it confirms that the software is usable by the employees. At a minimum, you should involve your yard/warehouse manager, as they will drive the process across your organization daily.

Get to know your software before you train your team

It's critical that your employee's first impression of the software is a good one. Otherwise, you can expect them to avoid using it moving forward. Before onboarding your employees, it's best to have a good working knowledge of the software. You will be able to ensure they are using it correctly and understand exactly how your employees should integrate it into their normal workflows.

If this is not possible, we highly recommend having the software provider conduct the training for your employees. As a group, you and your employees can work with the provider to see how it should integrate into your business while understanding how to use it properly.

While the various trades and construction companies have many things in common, I have yet to see two companies that operate the exact same in this industry. As a result, how you use the asset tracking software can vary, and the better you know the software, the better you can make it work for your business.

Provide interactive training sessions

All training should include opportunities for the employees to use the software in the exact application you expect them to use on the job. That way, you can be there when you get stuck vs. on the job, where they will just stop using the product. It's also much easier to remember how to do something you have done before vs. only watching someone first.

Set clear expectations and roles

A critical success factor will be having at least one person responsible for owning the process and driving adoption across the organization. In most cases, this should be the person ultimately responsible for the inventory: warehouse manager, yard manager, toolroom manager, safety manager, or other leaders with the bandwidth to take ownership.

It should be clear to the other employees exactly how the process should work and what is expected of them. Depending on the software, a well-designed equipment tracking system should make their lives easier by clarifying what they are responsible for and providing visibility to available inventory they may need to do their job.

Onboard in stages if possible

A best practice we have seen is to get your tools and crew added to the software before starting the training. This is needed for all the interactive training environments above and makes it more real when they see tools and people they know on the app. This also allows you to get to know the app before getting others involved. If you have your tool/inventory list in spreadsheet form, you should be able to have that uploaded to your new system. If not, this is a great time to conduct an inventory as you load each item into the software. A well-designed system should allow you to add an item in a few seconds.

Ongoing support and reinforcement

Once everyone is trained and running, continued support and reinforcement are key to making the new process stick. Your inventory manager can help drive the process with all the employees as they transfer and receive tools.

Be sure to choose software that includes ongoing support. You and your team will inevitably have questions moving forward and may need functionalities in the future that are not important now. Like all things tech, hardware (phones, PCs) and software (mobile apps) constantly evolve, requiring continuous support to keep your tool inventory system running smoothly.
Following the above steps will help you get the most out of your tool management software, maximizing your return on investment. We built the TOOTLRIBE Pro app specifically for construction/trade contractors, including the details covered above. Please contact us with any questions on how to get the most out of your construction inventory system.