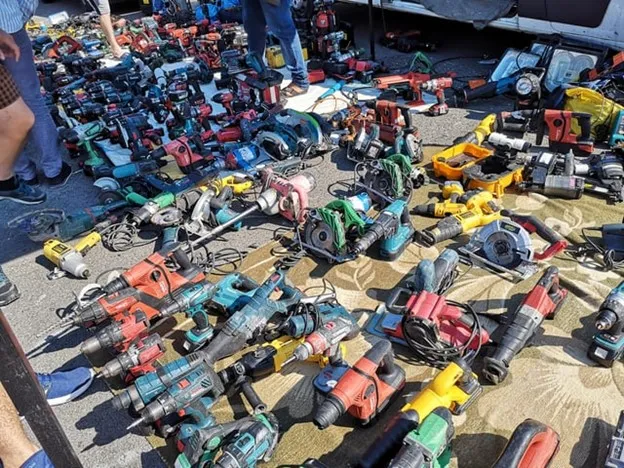 How To Prevent and Recover Stolen Tools
Stolen tools have turned into a frustrating reality of construction. However, there are steps you can take to get your tools back and to prevent them from getting stolen to begin with. It all starts with having records of your tools, including make, model #, serial #, and photos of the tool. There are tool inventory apps that make this easy, and we will discuss these in more detail later.
When tools are stolen, the first step is to file a police report with all the details of your tools. The more information you can provide, the more likely your tools can be recovered. Serial numbers are key so police can enter your tools into their stolen property database and share them with pawn shops and other places where they track stolen tools.
Next, you can file a claim with your insurance. They will want this same information: make, model, serial number, and photos of your tools. Tool photos make insurance claims easy as it's clear verification that you had the tools in your possession, so there is no question of insurance fraud.
Lastly, you should immediately secure the remaining tools and address how the others were stolen, if possible. Depending on circumstances, the thieves may try again if they were successful the first time. Replacing locks and adding security cameras should be considered along with the following steps to prevent tools from being stolen:
The first step is to take a proper inventory of your tools, including all the critical tool information described above. TOOLTRIBE offers a tool tracking system for construction that makes it easy to capture all the critical information and a photo simultaneously. The inventory list can be accessed on your PC and exported/printed if needed for police and insurance reports.
More importantly, you can assign/transfer responsibility for the tool to the employee who has the tool in possession. This clear accountability encourages the employee to take ownership of the tools and be more careful. In some cases, tool theft can be an internal issue from an employee or acquaintance of the employee. Providing awareness that the tools are tracked makes it clear that they are responsible and that the tools can be tracked by law enforcement if needed.
Tool marking can help deter theft as it clarifies that you are actively tracking the tools. This can also help recover stolen tools by allowing faster identification of a specific tool (and faster identification for tool inventory management). While virtually every tool manufacturer labels a tool with a serial number, having another identification method marked on the tool can be easier to read and reference than a long serial number that can be tough to read.
Bar Codes and QR codes, common in construction tool tracking apps, can help with rapid identification and theft deterrence. Remember, they can be easily removed depending on the material and adhesive used. High-strength materials, including metal and adhesives, can make these codes tough to remove but will cost more accordingly.
Tool tracking tags applied to tools can be a visual deterrent as well, but remember that unless they are true GPS tool trackers, they will most likely not help with recovery. Bluetooth tool trackers are only helpful if within a 100 to 300-yard range of the tool or someone else with the same app open.
Apple air tags have the benefit of a much larger network, increasing the chances that there will be a device nearby. However, even their system also struggles with interference from the already large number of Bluetooth sensors used on other devices. Managing notifications from 100's or thousands of assets is also a challenge when using air tags to track all the tools on a job in addition to the unreliable location tracking.
Many times, obvious steps can help prevent major tool loss. We have heard of cases where a work truck was left running while the employee went in to grab a coffee, only to come outside to find his entire truck full of tools stolen. Simple steps like locking your truck when you're not around, keeping your tools in sight on a job site, and locking toolboxes when not used can be enough for criminals to move on to easier targets.
In summary, having an updated inventory of your tools (with photos and serial numbers) and clear accountability for who is responsible for the tools are the most effective methods of preventing stolen tools. These same steps are critical to recovering your tools and getting reimbursed if the tools are not recovered.
While this all sounds very simple, it can be challenging to ensure your employees take the time to follow these steps while they are focused on delivering a project on time. We designed the TOOLTRIBE Pro app to streamline this process while allowing the field crews to be involved without slowing them down. Contact us if you would like help preventing stolen tools or if you have any other questions.